Galileo Passport Entry: APIS stands for Advance Passenger Information System. It is an electronic system that allows immigration and customs authorities to collect and process biographic and travel-related information about passengers before they arrive in a foreign country. APIS is used by many countries around the world, including the United States, Canada, the United Kingdom, and Australia.
When a passenger books a flight, the airline is required to collect certain information about the passenger, including their full name, date of birth, passport number, and destination.
This information is then transmitted to the APIS system, which allows immigration and customs authorities to review the passenger's information before they arrive in the country. This allows authorities to quickly identify any potential security risks, such as known criminals or suspected terrorists, and take appropriate action.
Galileo Passport Entry
Galileo Passport Entry: APIS also helps to expedite passenger processing and reduce wait times at border control. By having this information in advance, authorities can process passengers more efficiently and with greater accuracy. Additionally, APIS can help to prevent identity fraud by verifying passenger information against government databases.
Galileo Quick Reference Guide | Galileo Gds Commands
It is important to note that passengers are required to provide accurate and complete information to the airline when making their booking, as any inaccuracies or omissions can result in delays, denial of entry, or other penalties.
Step 1 – Open your Galileo PNR on your computer home screen and for pnr open use below command
Example – *KF4SQ2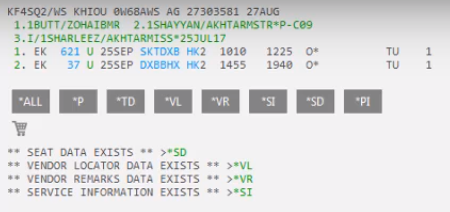 Step 2 – Now you can enter the passport details but before entering the details you need to confirm the correct information.
Galileo Passport Entry Example – SI.P2/SSRDOCSRJHK1/P/IQ/S12345678/IQ/12JUL66/M/23OCT15/BUTT/ZOHAIBMR
Entry Details :
P2 – Second Passenger
RJ – Royal Jordanian Airlines
P – Passport
IQ – Passport (country of issue)
S12345678 – Passport Number
IQ – Passenger Nationality
12JUL66 – Passenger Birthday
M – Gender
23OCT15 – Passport Expiry Date
BUTT/ZOHAIBMR – Passenger Name
The system will show you a look like the below screenshot.
Watch Live Youtube training videos