American Airlines AAdvantage Program : Are you an avid traveler who frequently flies with American Airlines? If so, you're in luck! American Airlines offers an incredible loyalty program called AAdvantage, which allows you to earn miles for every flight you take.
These miles can then be redeemed for various travel rewards, such as free flights, upgrades, and much more. In this comprehensive guide, we will walk you through the step-by-step process of signing up for the American Airlines AAdvantage program and making the most of its benefits.
How to Sign up for American Airlines AAdvantage Program
American Airlines AAdvantage Program: To get started with the American Airlines AAdvantage program, follow these simple steps:
Step 1: Visit the American Airlines Website
Open your preferred web browser and navigate to the official American Airlines website. You can do this by typing "www.aa.com" in the address bar and hitting Enter. Once the page loads, you'll be greeted with the homepage of American Airlines.
Step 2: Click on the AAdvantage Tab
On the American Airlines homepage, locate the navigation menu at the top of the screen. Among the options, you will find a tab labeled "AAdvantage." Click on it to proceed to the AAdvantage program page.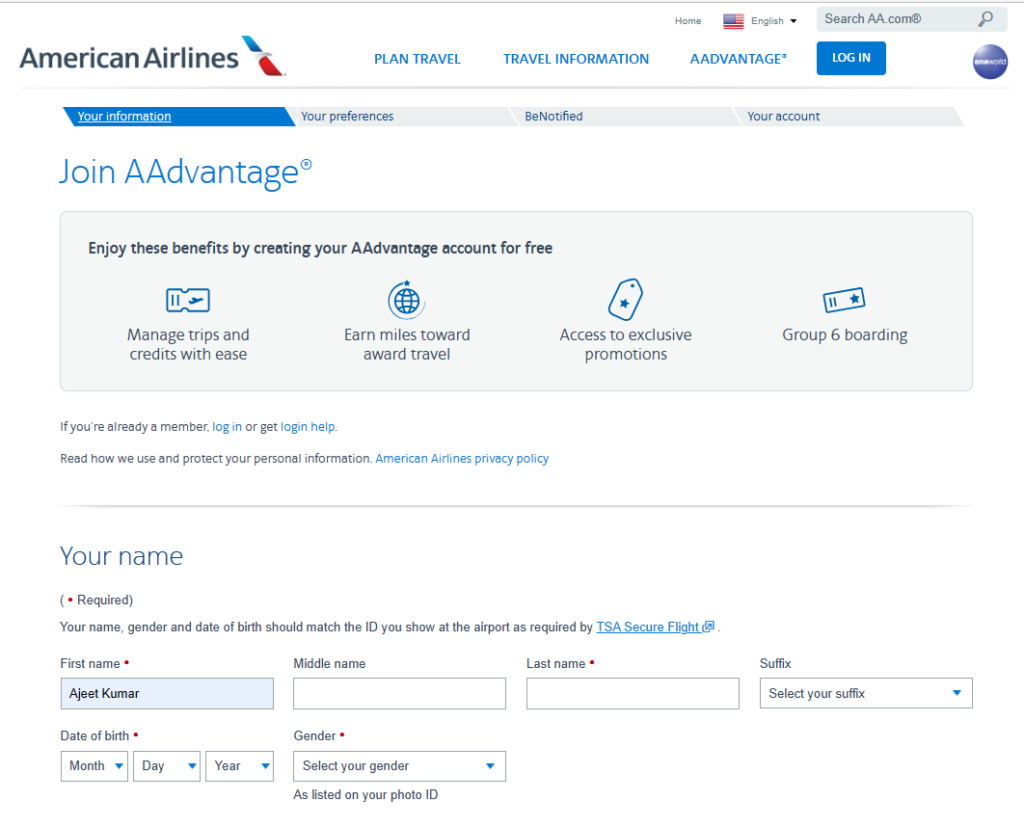 Step 3: Choose the "Join AAdvantage" Option
Once you are on the AAdvantage program page, you will see several options related to the program. Look for the option that says "Join AAdvantage" and click on it. This will take you to the signup page.
Step 4: Provide Personal Information
On the signup page, you will be asked to provide your personal information. This includes your full name, email address, date of birth, and contact details. Make sure to enter accurate information as it will be used for account verification and communication purposes.
Step 5: Create a Username and Password
Next, you will need to create a unique username and password for your AAdvantage account. It's essential to choose a strong password that combines letters, numbers, and special characters to ensure the security of your account.
Step 6: Agree to the Terms and Conditions
Before proceeding, take the time to read through the terms and conditions of the AAdvantage program. Once you have familiarized yourself with the terms, check the box to indicate that you agree to abide by them.
Step 7: Complete the Captcha Verification
To ensure that you're not a robot, you will be presented with a captcha verification. Simply follow the instructions and enter the characters or solve the puzzle as prompted.
Step 8: Click on "Join Now"
Once you have filled in all the necessary information and completed the captcha verification, it's time to finalize your signup. Click on the "Join Now" button to submit your application for the AAdvantage program.
Step 9: Confirmation Email
After successfully signing up, you will receive a confirmation email from American Airlines. Open the email and click on the provided link to verify your account. Once verified, you will officially become a member of the AAdvantage program.
Benefits of the American Airlines AAdvantage Program
American Airlines AAdvantage Program: Now that you are a proud member of the American Airlines AAdvantage program, let's explore the exciting benefits that await you:
1. Earn Miles for Every Flight
One of the primary advantages of the AAdvantage program is the ability to earn miles for every flight you take with American Airlines or its partner airlines. The number of miles earned is determined by the distance flown, fare class, and your AAdvantage membership status.
2. Redeem Miles for Free Flights
With the accumulated miles in your AAdvantage account, you can redeem them for free flights to various destinations. The program offers a wide range of flight options, allowing you to choose your desired travel itinerary.
American Airlines Web Check-In Online
3. Upgrades and Elite Status
As you earn more miles and progress through the AAdvantage program, you can achieve elite status. Elite members enjoy exclusive benefits such as complimentary upgrades, priority boarding, access to airport lounges, and more.
4. Partner Rewards
In addition to earning miles through flights, the AAdvantage program offers opportunities to earn miles through various partners. This includes hotel stays, car rentals, dining, shopping, and financial services. The more you engage with the program's partners, the faster you can accumulate miles.
5. Oneworld Alliance Benefits
American Airlines is a member of the Oneworld alliance, a global airline alliance that brings together 14 leading airlines. As an AAdvantage member, you can enjoy reciprocal benefits when flying with any of the alliance's partner airlines.
FAQs about the American Airlines AAdvantage Program
Q1: Can anyone join the American Airlines AAdvantage program?
Yes, the AAdvantage program is open to anyone who wishes to participate. There are no restrictions based on nationality or residency.
Q2: Is there a fee to join the AAdvantage program?
No, signing up for the AAdvantage program is completely free of charge.
Q3: How long does it take for miles to be credited to my account?
Miles earned from flights are typically credited to your AAdvantage account within a few days after the completion of your journey. However, it's always a good idea to keep your boarding passes and tickets until the miles have been posted.
Q4: Do AAdvantage miles expire?
AAdvantage miles do not expire as long as you have qualifying activity on your account at least once every 18 months. Qualifying activity includes flying on American Airlines or its partner airlines, redeeming miles, or earning miles through partners.
Q5: Can I transfer my AAdvantage miles to another person?
Yes, AAdvantage miles can be transferred to another person, but there is a fee involved. Visit the American Airlines website or contact their customer service for more information on the transfer process.
Q6: Are there any credit cards that can help me earn AAdvantage miles faster?
Yes, American Airlines offers co-branded credit cards that allow you to earn miles on your everyday purchases. These credit cards often come with sign-up bonuses and additional perks to enhance your travel experience.
Conclusion
Signing up for the American Airlines AAdvantage program is a fantastic way to maximize your travel experience and enjoy exclusive rewards. By following the step-by-step guide outlined in this article, you can easily become a member and start earning miles towards your next adventure. Remember to take advantage of the program's benefits, explore partner opportunities, and keep an eye out for special promotions. Happy travels!